Imran Khan Politician Essay Examples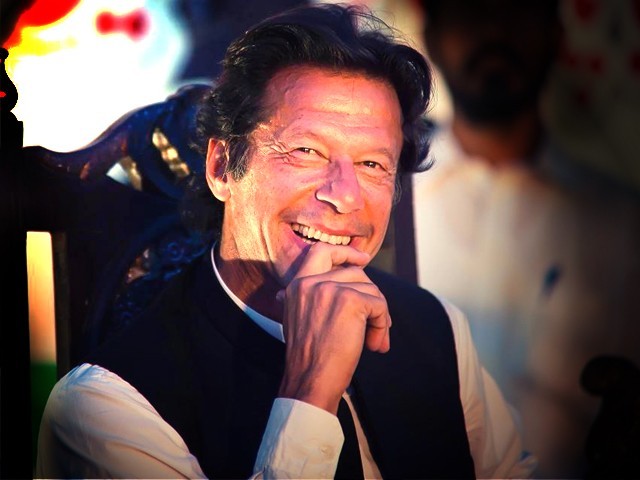 It is sad that even the brightest of us have so resigned to the fact that the system in Pakistan is corrupt that it has, over time, become a non-issue. For me, integrity is a huge issue. And that is what is unquestionable about this man.
At least once a day, I am asked,
"You support Imran Khan? Seriously?"
It is mainly because I do not fit the stereotypical image people have about PTI people. Emotional, young, immature and what we call "trolls". I like to think I am none of these. Very few in my field of work are open about their political tilts, if any. Maybe because there is a remote chance it may interfere with journalistic objectivity. However, I have been very clear since day one. Anything I report will say the truth and nothing but the truth. Even if it goes against the Khan. Blogs, tweets and social media are based on purely personal opinions, and hence are a different matter.
The next remark usually is a grin followed by,
"Aah. You are one of Killer Khan's female fans smitten by him."
While I do not deny admiring Khan as one of the most charismatic men in Pakistan, this is certainly not the reason he got my vote or why I support him. People have to start giving people with differing views more credit.
The last week or more has been a trial for Khan's supporters, me included. His very off-beat brand of politics has had Pakistanis who were never in favour of him smugly say,
"See! We always knew it would come to this."
Jokes about his questionable political wisdom (I can already hear readers saying "does he have any?"), the "unusual" jalsas with an aura of festivity, and Khan's very ad hoc, and at times incoherent and repetitive, speeches have not made it easier for supporters like me. It is not easy explaining why someone has moved from believing in PPP as the party that deserves the vote to PTI. But that debate is for another day.
As regards this man, undisputedly a national hero, there are very few who have centrist feelings. People either admire him to an extent that they become rude "trolls" in his defence, or write him off and are so put off by him that they react by laughing at him and at everyone who supports him. It is doubly difficult for his supporters who continue to support the man but question and disagree with certain decisions he has taken. I am one of those many. And openly so. Others from Pakistan's intelligentsia prefer to stay under cover, because the amount of mockery you get from non-PTI trolls for being a PTI supporter is immense.
I disagree with Khan on many grounds. I disagree that he and his ministers resigned. I disagree that he is not budging on his demand of Nawaz Sharif's resignation. I disagree with the words he sometimes uses, in a spell of euphoria and emotion. And these are just a few points.
Yet, I continue to support him and trust him.
All the mockery has not made me give up on him and his vision. The reasons are many, but here are the five major reasons why Imran Khan is still the only politician I continue to believe in.
1) He is not after the money
And this, ladies and gentlemen, is no mean feat. We, as a nation, are unfortunate that we are in a system that is steeped in corruption and bribery. That is a critical and basic problem with what's wrong with Pakistan. And this attitude of "le de kar kaam chalao" starts from the top and trickles down at every level. A wonderful journalist friend who is very anti-Khan politically, but has worked with him on projects regarding Shaukat Khanum, once said,
"I will never vote for Khan. But I would trust him blindly with my money."
For how many politicians in Pakistan can you say that?
It is sad that even the brightest of us have so resigned to the fact that the system in Pakistan is corrupt that it has, over time, become a non-issue. For me, integrity is a huge issue. And that is what is unquestionable about this man.
2) He is who he is
I admit that the man is not perfect, like all humans. He can irk the best of us the wrong way with never-ending cricket analogies that sometimes backfire. But he is who he is. Call it naivety, but how does one trust the "seasoned politicians"? Either you love Imran Khan, or you hate him, because at least you know what he is. As a voter, I have a connection with the political leader I vote for. I must know what he stands for and who he is. For someone who has little patience for hypocrisy, Khan is a natural choice.
3) His is not the politics of violence
Khan does not have a history of having had people punished brutally or beaten or attacked. The worst mudslinging his opposition can come up with is that he has been a ladies' man, and that they don't cease to remind the world about. But this man has not been involved in any indirect or direct criminal activity that ever harmed or took another human's life.
4) He leads from the front
Khan's courage is unquestionable. Barring a bullet-proof jacket, the man hardly has any security. His well-wishers often worry about him for this reason, but he is the fearless man that he is. This faith gives his supporters faith. Those who would use others as their shield do not inspire me to support them. He also is always the first to walk the talk.
5) He has truly served the nation
This one man has helped saved millions of lives in this country. Is that a small thing? People criticise him a lot for what they call his "self-absorbed" behaviour. Yet, this man has selflessly and tirelessly worked for public health and education of the under-privileged. For that, not only is the nation indebted, but I know what his priorities will be if he gets the reigns of the government of this country for an undisturbed five years.
It is sad that as a nation we have become so used to being led by people that lack these qualities that for us, dishonesty and corruption is acceptable, but a straightforward and sincere leader with much less serious mistakes is lambasted. Our leaders are a reflection of who we are. Time to choose our loyalties carefully.
Loading ...
Imran Khan, in full Imran Ahmad Khan Niazi, (born November 25, 1952, Lahore, Pakistan), Pakistanicricket player, politician, and philanthropist who became a national hero by leading the Pakistani team to a World Cup victory in 1992 and later entered politics as a critic of government corruption in Pakistan.
Khan was born into an affluentPashtun family in Lahore and was educated at elite schools in Pakistan and the United Kingdom, including the Royal Grammar School in Worcester and Aitchison College in Lahore. There were several accomplished cricket players in his family, including two older cousins, Javed Burki and Majid Khan, who both served as captains of the Pakistan national team. Imran Khan played cricket in Pakistan and the United Kingdom in his teens and continued playing while studying philosophy, politics, and economics at the University of Oxford. Khan played his first match for Pakistan's national team in 1971, but he did not take a permanent place on the team until after his graduation from Oxford in 1976.
By the early 1980s Khan had distinguished himself as an exceptional bowler and all-rounder, and he was named captain of the Pakistani team in 1982. Khan's athletic talent and good looks made him a celebrity in Pakistan and England, and his regular appearances at fashionable London nightclubs provided fodder for the British tabloid press. In 1992 Khan achieved his greatest athletic success when he led the Pakistani team to its first World Cup title, defeating England in the final. He retired that same year, having secured a reputation as one of the greatest cricket players in history.
After 1992 Khan remained in the public eye as a philanthropist. He experienced a religious awakening, embracing Sufi mysticism and shedding his earlier playboy image. In one of his philanthropic endeavours, Khan acted as the primary fund-raiser for the Shaukat Khanum Memorial Cancer Hospital, a specialized cancer hospital in Lahore, which opened in 1994. The hospital was named after Khan's mother, who had died of cancer in 1985.
After his retirement from cricket, Khan became an outspoken critic of government mismanagement and corruption in Pakistan. He founded his own political party, Tehreek-e-Insaf (Justice Movement), in 1996. In national elections held the following year, the newly formed party won less than 1 percent of the vote and failed to win any seats in the National Assembly, but it fared slightly better in the 2002 elections, winning a single seat that Khan filled. Khan maintained that vote rigging was to blame for his party's low vote totals. In 2007 Khan was briefly imprisoned during a crackdown against critics of the administration of Pres. Pervez Musharraf after Musharraf declared a state of emergency in November. Tehreek-e-Insaf condemned the state of emergency, which ended in mid-December, and boycotted the 2008 national elections to protest Musharraf's rule.
In spite of Tehreek-e-Insaf's struggles in elections, Khan's populist postitions found support, especially among young people. He continued his criticism of corruption and economic inequality in Pakistan and opposed the Pakistani government's cooperation with the United States in fighting militants near the Afghan border. He also launched broadsides against Pakistan's political and economic elites, whom he accused of being westernized and out of touch with Pakistan's religious and cultural norms.
In the months leading up to the legislative elections scheduled for early 2013, Khan and his party drew large crowds at rallies and attracted the support of several veteran politicians from Pakistan's established parties. Further evidence of Khan's rising political fortunes came in the form of an opinion poll in 2012 that found him to be the most popular political figure in Pakistan.
Just days before legislative elections in May 2013, Khan injured his head and back when he fell from a platform at a campaign rally. He appeared on television from his hospital bed hours later to make a final appeal to voters. The elections produced Tehreek-e-Insaf's highest totals yet, but the party still won less than half the number of seats won by the Pakistan Muslim League–Nawaz (PML-N), led by Nawaz Sharif.
Khan's writings include Warrior Race: A Journey Through the Land of the Tribal Pathans (1993) and Pakistan: A Personal History (2011).